Personal Trainer Maldon | 1-2-1 Personal Training Maldon Essex
If you're looking for a personal trainer in Maldon Essex look no more as you've made it, for whatever reason you are here be it to lose weight, build muscle, get nutrition plans and advice or get the edge over your competitors in your chosen sport I can give you what you want, if you haven't already looked around the web site let me introduce myself, my name is Darren and I own and run Private Personal Training & P.P.T. Boot camps here in Maldon Essex, I specialise in every level of the fitness industry as I have had over 20 years playing and learning in every type of sport at all different levels, I have been personal training for 10 of them years with many different type of people at all sorts of levels of fitness.
So whatever your training goals are I can get you there in the shortest amount of time.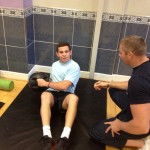 1-2-1 Personal Training In Maldon Essex
If you're after one to one personal training then I am sure that our completely private, fully equipped, air conditioned gym here in Maldon is for you, if you sign up for personal training sessions you will have no one else in the gym with you apart from me training you, so no waiting to get onto machines, use of free weights or even worrying what other people are thinking as sometimes the gym can be a place of judgmental people, I know I've been in enough of them.
What Do The Personal Training Sessions Consist Of?
All personal training sessions consist of 1 hour or half hour 1-2-1 personal training or small group training sessions to the level and ability of the individual or persons being trained to achieve their desired goal.
Diet plans to suite your fitness goals.
Constantly assessing your nutrition and tweaking your nutrition to get the best from your training.
Use of the fully equipped, completely private, air-conditioned gym.
Although you will be working out each session I still like to teach my clients within the personal training sessions as much as possible without slowing the session down to become more knowledgeable and experts on themselves with there training, nutrition, body and wellbeing so if they want they can train by themselves and maybe start teaching others or family members about training or nutrition.
Access to me all day everyday if you have any questions on your training or nutrition.
Complete online personal training system for free (You don't have to use the online system if your training with me but it is available to you if you want to use it as an added bonus)
If you don't want to use our Gym or you already have a membership else were in Maldon then this is fine I can train you there instead, below are a few places that we can train in Maldon if your Gym isn't on here don't worry I will still be a be able to train you there.
Places We Can Train In Maldon
Our fully equiped gym (Free Gym Membership)
All local gyms, The old Iron Works, Black water Leisure Centre Maldon e.c.t.
Parks.
Come to your home.
People I Train With
Men.
Women.
Teenagers 18 plus
Seniors.
Other areas I Cover Other than Maldon
Private personal training covers the Essex area, including Chelmsford, Maldon Essex, Witham, Hatfield Peveral, Little Totham, Tolleshunt Major, Purleigh, south Woodham ferrers, as long as you are within a 15 miles Radius of maldon I can train you.
If you prefer to workout in groups then you may be interested in our boot camps here in Maldon, these are fantastic fun and an amazing way of getting into shape while meeting new people Click Here to find out more about our Maldon Essex Boot Camps.
So are you ready to change your life feel amazing and look amazing in the shortest amount of time, then if so have a look at some of my prices and special offers then send me a message or give me a ring to see what I can do for you, remember I'm not just a personal trainer in Maldon I cover all surrounding areas as well.